otally Yours: Walking in the Footsteps of Pope John Paul II

On the relationship of Mary to the world, as evidenced by one of her greatest proponents in the modern era, Pope John Paul II
Mary is celebrated through 1,700 years of music as the "Tota Pulchra, the 'All Fair', an ideal of beauty artists have always sought to reproduce … where human beauty encounters the beauty of God." (Benedict XVI).

Created in honor of the 5th anniversary of the death of Blessed Pope John Paul II by the California Catholic Women's Forum, who realize that the genesis of their work is in his thought and know that their efforts are guided by the Tota Pulchra in Jesus' name. "He, who at an early age lost his own mother, loved his divine mother all the more . . . and took her into his own home - Totus Tuus" (Pope Benedict XVI).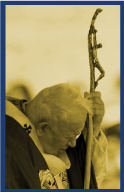 creative catholic works | home | the project | the music | the sessions | the artists